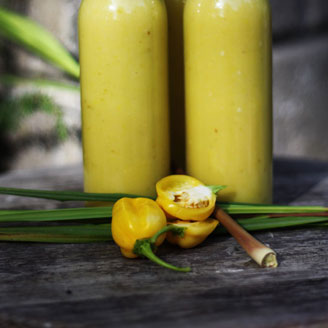 15-25 pieces Yellow Habanero
4 stalks of Lemongrass
1 Garlic solo
2 Shallots
1 Lemons (zest and juice)
1 tsp Ginger
1 tbs salt
3 dl water
1 dl vinegar
1 half fresh Pineapple

Finely chop lemongrass, garlic and shallots and sautée in some oil. Wash and split the habaneros and add to the pan together with all the other ingredients. If you prefer a lesser Evil sauce you know what to do. Bring to a boil and let simmer for 5-10 minutes. Blend the suce smooth and let cool before pouring into bottles.